About Me
Writer. Musician.Artist.♥
Hello everyone!
I am Rheich and this is my personal blog.
Thanks for dropping by. ♥
Categories
NAILART
MUSIC
ART/CRAFTS
POETRY
OUTDOOR/TRAVEL
PERSONAL
RANDOM
ABOUT
Follow Rheich
TWITTER
FACEBOOK
LOOKBOOK
YOUTUBE
BLOGSPOT
DEVIANTART
BLOGROLL
Let Me Be A Lady
Rheich Meets Poetry
The Art Loiterer
No, It's Not A True Story
Kingdom of Random (Inspiration)
Real Girls Wear Skirts
Message Rheich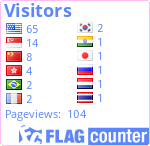 L'amour de l'eau! Water,Mi favorito!
I admit, among the four elements, Water is my favorite. I almost feel giddy whenever a beach escapade is near within my sight. I don't mind my skin being burned by the scorching rays of the sun nor the sand's heat my bare-feet will tread on as long as there is the scent of water. My love for water is synonymous to my fondness to the evergreen forest.
What if water would be gone now and forever? Would we still exist? For a day, maybe yes. but for a month or a year,you'd agree with me that we can't. Even so, I am saddened by the fact that some people nowadays don't value water than they value life. Water pollution, Water Wasting, and Excessive water consumption is not a good picture to cast your eyes with. It is so heart-wrenching that some children in far-away countries don't even have a bucket of clean water to use or drink, and with that, I say, that we should learn to value water. We should learn to use it wisely. Maybe spending a 5 minute less than we usually do in the shower would help, or never leaving the faucet open after using…or maybe even donate water or by any means to those children who lack water for their body requirements the sooner we can.
Water is life. Water is for all to use and enjoy. But definitely, not for us to abuse.
Let's spread the water-love to people in need. Let's help others in whatever way we can. :)
<3 Rheich
twitter / instagram / tumblr / facebook
RELATED POSTS: